Patriot offers a relatively inexpensive and easy-to-use software for conducting payroll for any number of employees. You can choose the full service plan starting at $34 per month or a DIY option that starts at $14 per month and requires you to handle tax filings. Patriot Payroll provides free setup for companies, but the process is not especially difficult. The interface is intuitive and there are multiple help features if you get stuck.
Below we review the basic steps for setting up an account and running your first payroll using Patriot. You can follow along by signing up for a free demo on Patriot or taking advantage of the free 30-day trial.
Please note: Depending on where you are in the process and how you initially access Patriot Payroll's software, some of the screenshots in our guide may differ from what you actually see. Overall, the process should be the same and will ask for the same information.
If you want to set up your payroll account and run your first payroll with more than just screenshots as support, follow along with our video on how to set up and run payroll with Patriot.
Follow these steps to get started with Patriot Payroll:
1. Create Your Account
To create an account on Patriot, simply sign up for the free trial from the homepage. The system will then prompt you to enter basic company information like your tax filing name, business name, number of employees, phone number, and mailing address. You will have at least 30 days to try out the software for free before having to select a plan. Sometimes, it runs promotions and automatically applies a promo code that increases the free trial to 61 days.
Alternatively, you can jump straight in and choose either the basic payroll plan or the full service payroll plan. With the full service plan, Patriot files and pays the payroll taxes for you. In contrast, the basic plan requires you to manage taxes and do payroll partially on your own. If you choose to start with one of Patriot Payroll's paid payroll services you'll get access to free setup. Depending on your needs, this may make it worth forgoing the free trial, which requires you to input everything yourself.
If you decide to do your own setup, you'll find most of the functions you need in "Settings" and can use Patriot's setup wizard to simplify the process. If, at any point, you want to complete the steps in a different order than the wizard suggests, you can skip steps and come back as needed.
Information to Gather for Patriot Payroll Setup
Before you dive into your payroll setup, take a look at the items Patriot recommends you have ready beforehand. This will make your setup process quicker and easier.
Company location information: Where is your company headquarters located? Do you have different work locations?
Tax identification numbers: Federal employer number, state income tax ID number (some states, like Texas and Florida, won't have this), local tax ID number (only in localities that charge a tax).
State unemployment account number and rate: You should apply for state unemployment insurance on your state's Department of Labor website. The account number and rate usually come in the mail a week or two later.
Business bank account statement: We recommend using a separate bank account from the one you use for regular transactions.
Employee W4s: This will show employee names, Social Security numbers, tax filing status, and other important information.
Pay rate and frequency: Choose from payment frequency, including biweekly, semimonthly, or weekly.
Payroll registers for the current year: This will show how much you've paid out in total to each employee year-to-date. It's important to ensure each employee's pay stub is accurate.
Employer taxes for the current year: Patriot will help prepare your year-end tax forms, so it needs to know what you paid before signing up for its service.
Tax filings for the current year: If you sign up for Patriot's service before quarter-end, Patriot will need to file taxes for you. The data from your prior tax filings will help them see what their responsibility is.
Once you read over all the information that Patriot wants you to know for preparation, select "Continue" in the bottom right-hand corner.
2. Add Payroll Settings
You'll be asked to respond to a few questions or prompts before proceeding:
Do you have employees who work at ____ location? Verify that you have employees who work at the location you entered when you created your account. Select "Yes" or "No."
Add other locations: You'll be given the option to add other locations, if applicable. Select "No" if you're done or "Add location" if you need to enter additional addresses.
Are there any employer payroll taxes that your business isn't required to pay? If you're running a nonprofit organization, you may be exempt from some taxes.
Input Federal Tax Details
To add your payroll settings, you'll also need to input your federal tax identification number. If you don't have one, Patriot has a link that will send you to an article explaining how to get an account number in your state. Select "Show Advanced Tax Settings" to choose your default payroll frequency (i.e., weekly or biweekly pay period). You'll also need to identify your federal filer type, Form 941 or Form 944; small employers that typically owe less than $1,000 a year file Form 944. When you're done, select "Continue."
Input State Tax Details
Similar to how the federal tax section works, the state settings let you set up account numbers. It'll ask for your state income tax number if you live in a state that charges income tax. There's also space for you to enter your state unemployment tax rate and the date the rate is effective. When you're done, select "Continue."
Custom Hours Types
Patriot gives you the option to select the categories you will use to label your employees' work hours. Regular and overtime hours are the most common, so they will be checked by default. Since COVID-19 is still an issue, there are also categories available that you can use when employees take paid-time-off due to their own sickness or the illness of a qualifying family member. When you're finished choosing the categories you want to use, select "Continue."
Custom Money Types
If you plan to pay out bonuses, commissions, tips, or expense reimbursements, you'll also need to identify whether payments will be repeating or just frequently used. You can also add a new money type if needed.
3. Set up Payment Details
Patriot will ask you the following questions to help you set up payment details for your employees:
Does your company need to add employee deductions? You'll need to add specifics about each deduction type you need set up, including benefit premiums, 401(k) contributions, and garnishments.
Does your company offer contributions? If you'll match retirement contributions or pay a portion of employee benefit premiums, add a description of each and how the contribution will be calculated.
Do you use workers' compensation codes? If you use codes to report workers' compensation for each employee, enter them here along with the applicable state.
How will you be paying your employees? You can handwrite your own checks or print them using Patriot's software. Other pay options are direct deposit, which is most convenient and common, and a direct deposit-check combo.
Identity Verification for Direct Deposit
If you choose to pay via direct deposit, Patriot will need to confirm your identity using a third party service. To do so, enter basic information, like your name, address, Social Security number, and birth date. Keep in mind, however, that you'll only get three chances to enter the correct information before Patriot will deny your identity verification. If you're only paying by check, you won't need to complete this step.
Check Layout
If you're planning to print paper checks, you'll need to select one of three layouts and select whether your checking account number is pre-printed on your checks. If it's not, Patriot will require you to enter the account number so it prints accordingly.
4. Add Employees
Once you enter basic payment details, you're ready to add each employee to the software. Be sure to have the following information handy:
Personal information
Pay information
Tax information
Deductions
Company paid contributions
After you gather everything, select "Continue."
Enter Your Employees' Personal Information
Start by entering basic information for each of your employees, including name, Social Security number, and address. You also have the option of entering their email addresses so Patriot can send them a link they can use to access the employee portal. Once you upload all your onboarding documents, your employees can see and sign them through their portal.
Enter Your Employees' Pay Information
Patriot needs to know how often each employee will be paid and on what basis, hourly or salary. In addition, you'll need to enter a pay rate and specify whether they're covered by workers' comp insurance.
Enter Your Employees' Tax Information
You should have a W-4 form for each employee, and you'll need it to complete this section. If you have a 2019 form, you'll need to specify that, because the IRS issued a new 2020 W-4 form for employers to use. Enter their filing status, single vs married vs head of household, withholding exemption status, dependents, and other information required by the form. If you're in a state that has income tax, you may need to enter information from each employee's state W-4 form. Select "Continue" when you're done.
Add Deductions and Contributions
At this point, you'll have the chance to specify whether each individual employee will have deductions or contributions included in their paychecks. You already set these up on a company level, so all you'll need to do is select the appropriate one(s) applicable to each employee.
When you're done adding your first employee, you'll see a prompt asking if you need to add another employee. Repeat the process we just covered until all employees are in. If you want to add employees in bulk, you'll need to contact customer support and Patriot will help with setup for free.
You have the opportunity to review a summary of information for each employee added before proceeding. Make all changes necessary before selecting "Continue."
5. Review Patriot Payroll Setup
On this page, you'll see all of the information you entered for your company, taxes, payment settings, and employees. When you're sure everything is correct, select "Continue."
6. Enter Payroll History
Patriot needs to know your payroll history for the current year to ensure your tax payments are up-to-date and any year-to-date information it provides is accurate on pay stubs and year-end tax forms. To do this, answer the following questions:
Has your company paid any employees during the current year? You'll have to verify that you understand that providing all payroll and tax history for the current year could lead to additional fees if Patriot has to do corrections in the future.
What payroll provider did you previously use to run payroll? It'll list common providers for you to choose from, like Gusto and QuickBooks Payroll.
Now you're ready to enter your payroll history. This can be time consuming because you can't enter lump sum totals. Instead, you'll have to enter payroll information by pay period and for each individual employee. When you're done, you'll be able to review and approve a summary of the payroll history you entered.
Payroll Tax Adjustment Review
Patriot will then compare the historical tax payments you entered to its own calculations of what it expects your tax payments should've been. This is to help catch any errors you may have made. If you approve, it will automatically adjust the figures for you, so they are correct in the system.
7. Enter Credit or Debit Card Information if Using a Trial
Although Patriot does offer a free trial, it requires you to enter payment information it can use to bill you when the trial is over.
8. Tax Filing Setup
Patriot needs to know how often to make your payroll tax deposits with the IRS and other tax agencies. It can differ for federal, state, and local taxes; many employers pay their federal payroll taxes on a quarterly basis.
You can input your tax account numbers, set up locations, deposit frequencies, and more. If you are a tax-exempt organization, there's a section to add that information as well. You can load forms by selecting "Settings," then "View/Upload Files," and finally "Support."
Add Your Bank Account
Patriot will also need your bank account information to ensure it pulls funds from the correct place. Setting up your bank account is straightforward. Add your routing number; if you don't know it, check the bottom of one of your paper checks. Patriot will then verify it through Plaid or by sending a test transaction. You can also upload a copy of your business bank account statement; personal bank accounts aren't accepted.
You need to electronically sign IRS Form 8655 to authorize Patriot Software as your Reporting Agent to deposit and file your federal and state taxes (if applicable) on your behalf. Click "Preview Unsigned Form 8655" to download a PDF of the unsigned form. The form will be pre-filled with all required information. This is just for information only so you can see the form you will be electronically signing. You do not need to sign this hard copy. Back on the setup screen, check the box to certify you have the authority to electronically sign the 8655. Click "Submit."
9. Give Tax Authorization
To finalize your payroll setup, you have to officially authorize Patriot to act as your Reporting Agent; this means it will deposit and file federal, state, and local taxes on your behalf. Select "Preview Unsigned form 8655" to download a PDF of the form you need to sign. It should pre-populate with basic information like your name and title. Review it to ensure you understand what you'll be electronically signing and then check the box on the page to verify you have the authority to sign Form 8655. Select "Submit" when you're ready.
Select a Start Date for Payroll Taxes
Choose the date you want Patriot to begin withholding, depositing, and filing your payroll taxes. If you choose a prior month, Patriot will charge you an extra monthly fee to cover tax withholding for all months before the current one.
You'll see a summary of your tax responsibility and Patriot's tax responsibility. Select "Authorize Tax Collection" at the bottom of the page to verify that you give permission for Patriot to deduct tax payments from your bank account.
You should now see a message stating that your payroll setup is complete.
10. Start Running Your Payroll With Patriot
Once you enter all of the necessary employee, payroll, and tax information, it's time to start using Patriot to manage your payroll. Follow these steps to run your first payroll with Patriot:
Input the Hours the Employee Worked
You can enter hours manually by going to the New Payroll under the Payroll menu on the left. There are separate sections for hourly and salary employees, so that you can account for overtime hours. Patriot has also included a place to record hours due to COVID-19 concerns.
If you are integrating time-tracking software, the hours should populate automatically. Patriot offers a time and attendance software that lets employees clock in and out from their employee portal. Then, you approve the hours.
Enter Time Off
To view and edit time off, first set the time off hours under the "Hours and Money Types" under the payroll column of Settings. Once this is established, you can edit time off hours by clicking "Manage Time Off" under the Payroll menu in the left sidebar. Select the type of hours you want to edit and run the report. Next, click on the employee and record the hours.
Review Payroll & Submit
Once you have recorded hours worked and hours taken off, click on "Next Step." A summary will appear and the software will flag potential errors. If you are not ready to submit the payroll, you can save the entries. Look over the summary, and if it's good, click "Approve." If not, simply click "Continue Your Payroll" or "Back to Employees" to make edits.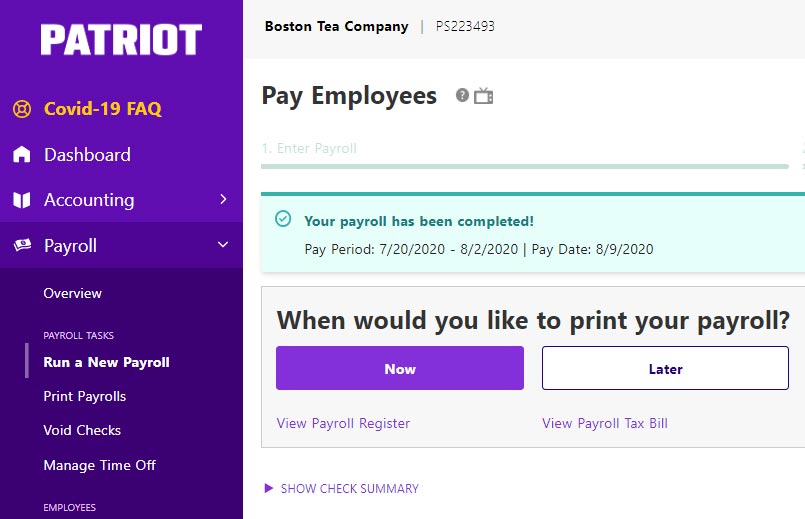 Congratulations! You just ran your first payroll with Patriot Payroll. After this, you can print the payroll, review the register or tax bill, or run other reports. If you have contractors, you'll run a separate payroll to pay them. You'll find that doing payroll with payroll software is much easier than doing it without. Payroll services make the process much smoother.
Although having payroll software makes paying your employees the right way much easier, you still need to know the basics. Check out our tips on how to get the best payroll training to help.