In the first year of your real estate agent career, you may notice that a large portion of agents leave your real estate company. While many agents don't stay with their first brokerage very long, that is likely because they chose the wrong one to begin with. When you're deciding how to choose a real estate company to work for, make sure you consider the following tips.
1. Decide Which Type of Brokerage to Target
In order to represent clients in real estate transactions, the majority of states require real estate agents and salespeople to have a sponsoring broker, and the first step in choosing the right brokerage is understanding the pros and cons of the three different types. Evaluate the differences between national franchise brokerages, boutique brokerages, and virtual brokerages in order to decide which one is the best for you.
National Franchise Brokerages
Franchise brokerages are large national companies that sell the rights to use their name, branding, and business model to brokers, like RE/MAX, Century 21, and Keller Williams. After they sell a franchise to a broker, they also charge them a set percentage for every deal closed in the office. While many franchises are independently owned, almost all of them follow rules and regulations set by the head office.

Pros of Working for a National Real Estate Franchise

Cons of Working for a National Real Estate Franchise

Instant credibility:

As a new

real estate agent

, carrying the reputation of familiar and trustworthy brokerage names can go a long way in showing your expertise.

Large size: Some agents, especially new agents, feel that large franchises are more impersonal and don't value their development as much as a boutique brokerage would.

Multiple offices: There could be hundreds or thousands of offices all over the country, which means you can use offices within your state that are more convenient for clients.

More competition for leads: In franchises, leads are often distributed by management. Since there are so many agents and brokers, every lead that comes in gets scooped up quickly.

Technology: National franchises have a lot more leverage when it comes to negotiating discounts on software and tech support than boutique brokerages. You are likely to get free or discounted access to top-shelf transaction management software, CRM software, and website-building software.

Less flexibility: Since there is a corporate office, big decisions can take a long time to process and trickle down into each building. This makes it difficult to make positive changes or reach someone in management.

Turnkey marketing solutions: Franchises generally offer their agents prepared marketing solutions, like free direct mail and online advertising templates, website building tools, and drip campaigns.

Training: Many large franchises have developed incredibly thorough training programs for new agents. They can help new licensed real estate agents hit the ground running and find success more quickly.
Takeaway: Franchise Brokerages
Working with a franchise brokerage can be invaluable for agents who want experienced mentors, high-quality training, and access to the most effective real estate technology. However, it does not allow for much creative control in your marketing strategy, and it's difficult to reach upper management.
To learn more details about popular national franchises, check out our in-depth ranking of the top six.
Boutique Brokerages
Boutique brokerages are generally owned by one small company and managed by a single broker. Examples include: Core Real Estate out of Manhattan, Bayside Real Estate in Los Angeles, and @Properties in Chicago. Even though boutique brokerages can be significantly smaller in size than a franchise brokerage, that doesn't limit their sales potential. Some of the most successful brokerages in the country are boutique brokerages, and they have sold over $5 billion in one year.

| Pros of Working for a Boutique Brokerage | Cons of Working for a Boutique Brokerage |
| --- | --- |
| More individual attention: An individual agent's contributions to the brokerage's bottom line can be more important for boutique firms. This means that brokers at boutique firms may spend more time individually coaching and nurturing newer agents. | Smaller marketing budgets: Boutique brokerages usually have smaller marketing budgets, as well as lower online traffic. |
| Less competition for leads: Since there is only a small number of agents and brokers, leads that come in are more accessible. In fact, sometimes experienced agents will even let newer agents handle the majority of new leads. | Less brand recognition: Outside of your immediate town or people who have previously worked with you, most others won't automatically recognize your brokerage name. |
| Teamwork: The small size of boutique brokerages often lends itself to a feeling of comradery. Everyone helps each other for the benefit of the brokerage as a whole. | Less access to technology: A boutique brokerage may not have the resources to offer their agents discounts or free software. This can make your lead generation and follow-up systems much more difficult and costly. |
| More flexibility: Since there's no corporate office to answer to, boutique firms can make big decisions quickly and easily. Policies and best practices can be changed overnight, instead of waiting for them to slowly trickle through head office. | |
| More creative license with marketing: While every brokerage has guidelines for marketing and advertising, rules at boutique agencies are almost always less strict. This means that agents have more creative control over their own brand. | |
Takeaway: Boutique Brokerages
With a boutique brokerage, you'll have a much higher level of flexibility with your marketing strategy, and will encounter less competition for new leads because of the team camaraderie. However, the freedom may not make up for having a smaller marketing budget and lack of access to the top real estate tools.
Virtual Real Estate Brokerages
With the advent of software as a service (SaaS) real estate software and the increasing reliance on online advertising, virtual brokerages are now a viable option for independent and experienced real estate professionals. Instead of walking into a brokerage office, you can handle your real estate needs from the convenience of your computer with a virtual real estate brokerage.

Pros of Working for a Virtual Brokerage

Cons of Working for a Virtual Brokerage

Higher commission splits: Since they don't have to pay for expensive office spaces, virtual brokerages can offer very attractive commission splits. They generally range from 70% to 100% for experienced agents.

Less networking potential: There is a lot of value in growing your real estate network. In a boutique brokerage, you may get new leads from other professionals. A virtual brokerage doesn't provide you with those opportunities.

Lower desk fees:

Most traditional firms charge a desk fee of $150 to $400 per month. With a virtual brokerage, you can put that money toward marketing. An extra few hundred dollars in

Zillow Premier Agent

or

Facebook advertising

can have a significant return on investment (ROI).

Less training opportunities: You can always take more continuing education and professional development courses, but you'll miss out on free trainings a brokerage may provide. You also won't be in contact with more experienced agents to ask questions and grow your expertise.

Better tech tools: Virtual brokerages make up for the lack of office space with well-integrated technology like websites, customer relationship management (CRM), and transaction management tools.

Can be isolating: Working alone is not for everybody. Virtual brokerages do not have an office culture or co-workers who understand the highs and lows of real estate. This can make the stress of this job more difficult for some agents.

More independence: If you want to skip the weekly sales meetings, social outings, and training sessions that come with other brokerages, then virtual is the best fit for you.
Takeaway: Virtual Brokerages
A virtual brokerage may offer the best of both worlds for agents who want a high commission split and access to technology. However, it may not be the best choice for agents who need personalized mentoring, training, and teamwork.
If you think a virtual real estate brokerage is the best fit for you, try Real. They offer splits starting at 85% with no monthly fees, free IDX websites with landing pages and live chat, customer relationship management (CRM), Dotloop, cloud comparative market analysis (CMA), and more. Click below to learn how Real can help put more money in your pocket this year.
2. Decide Between Going Solo & Joining a Team
When you associate your license with a brokerage, there are two ways you can work for them. You can go solo, which is what most people mean when they talk about becoming a real estate agent. The other option is to join a team, which means that you are working under another, more experienced agent in the office.
Reasons to Go Solo
If you have a large sphere of influence or enough cash reserves to keep you afloat, going solo might be the best choice for you. When you don't join a real estate team and go solo, everything from lead generation to accounting rests squarely on your shoulders. You can make more money with a standard commission split, and you will have complete autonomy over your business.
The downside to having autonomy as a solo real estate agent is that you don't have help. You have to learn everything and build your business from scratch. You may need to try multiple lead generation tactics before finding what works in your area. On the other hand, if you join a team, you'll be given the proven techniques right away.
Reasons to Join a Real Estate Team
Joining a team is often the best choice for brand-new agents or newer agents who are struggling. You get benefits like covered expenses and a group of mentors, so you'll learn how to run a real estate business the right way from a seasoned pro.
The team will also feed you leads, so you can spend more time on selling and less time on lead generation. If you want to survive your first year, lead generation is absolutely crucial. Since it may take a long time for a brand-new agent's lead generation efforts to bear fruit, working for a team is a great way to start.
On the other hand, joining a team means a lower commission split. You'll also sacrifice flexibility and autonomy by working on a team. You have to evaluate your short- and long-term goals to determine if a real estate team or going solo is right for you.
3. Compare Commission Plans, Fees, Contracts & Lead Distribution Strategy
Every real estate company and brokerage will have varying commission splits, fees, and contracts. When you're deciding how to choose which real estate company to work for, make sure you understand the types of commission plans, common fees, and contracts. While you can find out some of this information on your own, you will likely have to request a face-to-face interview to understand the options offered by brokerages in your area.
Types of Commission Plans
Generally speaking, there are three types of commission plans offered by real estate brokerages: high-split plans, traditional split plans, and hybrid plans.
High-split Plans
A high-split plan means you will get a higher percentage of the overall commission paid to the brokerage. High-split plans range from 70% all the way up to 100%. Sounds great, right? Not so fast. In order to recoup their expenses, high-split brokerages charge monthly "desk fees" to agents. Desk fees are like rent—you need to pay them no matter how you're doing financially.
Traditional Split Plans
A traditional commission split for a real estate deal is 50/50. That means you get 50% of the commission and the brokerage gets 50% of the commission. With these plans, there are generally very low desk fees or no desk fees at all. While you may technically get a smaller split, you're also not reaching into your pocket every month.
Hybrid Plans
Hybrid plans are the happy medium between high-split plans and traditional split plans. Most hybrid plans offer a split of 70% to the agent and 30% to the brokerage to start off the year, which then goes up to 100% after certain production goals are met.
Which Commission Plan Is Best for New & Newer Agents?
While there isn't one commission split that is best for all agents, hybrid plans can offer the best of both worlds for new agents. However, the commission split offered to you will depend on the broker's assessment of your potential to succeed. When you interview with multiple brokerages, get their offers in writing so you can compare them.
Additional Fees
Brokerages often charge their agents other fees besides desk fees and commission splits. Franchise brokers will often charge a "franchise fee" for each deal ranging from 5% to 8%. Boutique brokerages sometimes charge an "advertising fee" or other fees. Be sure to ask your interviewer about all the fees that come out of your bottom line.
Real Estate Brokerage Contracts
When you accept an offer from a real estate brokerage, they will have you sign a contract stipulating terms. Read it, and read it carefully. Generally speaking, you will be signing a one-year contract, but you can leave whenever you choose. Make sure the commission split and desk fees you agreed on are spelled out in the contract.
Lead Distribution Strategy
Most leads are either going to come from your team leader or from your own blood, sweat, and tears. However, many brokerages also get general leads that they distribute to their agents. Be sure to ask each brokerage how they distribute these leads so you know what to expect.
4. Evaluate Other Potential Success Factors
Once you understand the hard numbers and the type of brokerage that fits your goals, you can narrow down your choices by evaluating the other strengths and weaknesses of different real estate companies. This will dramatically increase your chances for finding financial and emotional success as an agent. These are the factors you should pay the most attention to:
Reputation in the community
Market share
Training plans
Culture and office setup
Online presence
In order to help you remember all these factors, we've created a downloadable scorecard that you can use to compare various brokerages. Simply print the scorecard and fill in the blanks.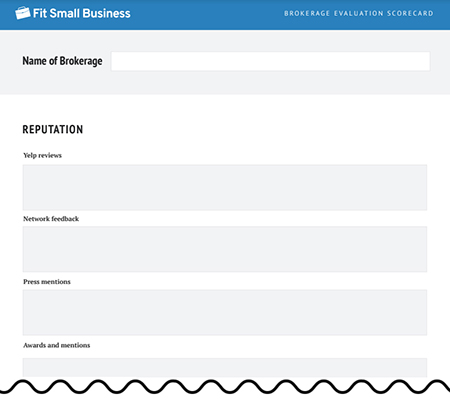 Download the Brokerage Evaluation Scorecard
How to Evaluate the Reputation of a Real Estate Brokerage
When you associate with any real estate brokerage, you're also accepting their current reputation. Therefore, you should do extensive research beforehand to determine exactly what people in your community think about that brokerage.
Here's how to determine if the brokerage you're considering has a good reputation.
Read Yelp Reviews
Since almost no one logs in to Yelp unless they've had a very negative or very positive experience, Yelp reviews need to be taken with a grain of salt. That said, if the brokerage has a very high number of negative Yelp reviews, this should be a red flag.
Ask Your Network
Word of mouth is an easy way to vet a potential brokerage to work for. Have you heard of the company? Have your friends or family? What's the first thing that comes to mind when you think of them? Chances are, many potential clients feel the same way.
Review Press Mentions
Do a quick Google search for the agency. What kind of press have they gotten? If there is a lot of local and national press, odds are they have a great reputation. Many reputable firms will also have a press section on their website.
Look for Awards & Memberships
Do they have any awards listed on their website? Do they belong to any national associations besides your local board or real estate agents? Being listed on the Realtrends 500 rankings is a great indicator of success.
How to Determine the Brokerage's Market Share
The market share of a brokerage is an undeniable way to evaluate how successful they are at getting listings. If the brokerage has more listings than anyone else in your local market, then there is a good chance it's a great place to work. If they have none, you might want to look elsewhere.
However, keep in mind that the overall number of listings is less important than the number of listings per agent. Some companies have a few superstars while the majority of agents are struggling. See how many exclusive sales listings the brokerage has in the area you want to work. Do most agents have at least one exclusive listing? If so, this is a great sign.
What to Look for Related to Training
As a brand-new agent, good training, coaching, and mentoring can mean the difference between a successful first year and a mountain of credit card debt. If you're just starting out, quality of training should be at the top of your list when selecting a brokerage to work for.
Keep in mind that every brokerage will claim to have the best training in the business, but nothing could be further from the truth. When you interview them, ask what specific kinds of training are offered to agents, and how often. If you make a point to seek out specific information, it will become clear which brokerages really focus on training new agents.
Some companies, like Keller Williams, for example, have a vast catalog of training materials and seminars available. This is part of the reason we picked them as the best overall real estate company to work for.
How to Evaluate Company Culture & Office Setup
Often overlooked by newer agents, company culture can actually be very important to your success. Happy agents are successful agents. If the office culture doesn't mesh with your personality, you might find yourself avoiding going into the office. If it's a good fit, you'll never want to leave.
While interviewing each brokerage, you should also pay attention to the setup of the office. While a mediocre office shouldn't be a deal killer, it can give you a glimpse of the atmosphere of the office. Ask yourself the following questions:
Does it look or feel like a place you want to spend time working in?
More importantly, would you feel comfortable here as a client?
Is it clean?
Do they have nice conference rooms?
Are the receptionists and agents friendly?
How are the agents dressed?
When you're choosing which real estate brokerage to work for, every bit of information can be used to choose the best fit for you. For more insights, visit our article detailing the key questions every agent should ask when interviewing potential brokerages.
Why It's Important to Consider the Company's Online Presence
While there are still some real estate brokerages that don't put time and effort into their online presence, it is also an undeniably important factor in any company's success. Therefore, a real estate company or brokerage that has a better online presence will receive more views and more leads.
In addition, social media can help you get a sense of the brokerage's culture without needing to spend your time with a face-to-face-interview. For example, if you're looking for a laid-back office and their page has dozens of pictures from their latest softball tournament, then it's more likely to be a good fit than a firm that favors posts with more aggressive body language and agents in power suits.
Bottom Line
Choosing the right brokerage can have a huge impact not only on your first-year bottom line, but your future in the industry. It is an extremely important decision, so before you choose a real estate company to work for, be sure to think through the pros and cons of each.