Compared to most payroll services, the setup process for QuickBooks Payroll direct deposit is intuitive. Aside from your company's basic information (such as business name, address, and employer identification number or EIN), the system requires your business bank account details so that it knows where to pull the money from when it's time to process employee paychecks. You also have to enter your employees' banking information (like account and routing numbers) into the system, so it can send the funds to the right place.
In terms of what the first step to setting up QuickBooks Payroll direct deposit should be, it all depends on where you are in the process of setting up your payroll account. For those that are starting to do payroll, the system will prompt you to complete that setup process before you can set up its direct deposit feature. If your payroll account is already in use and you've been processing paper checks, you can go directly to the system's "Settings" and then "Payroll Settings" to get started.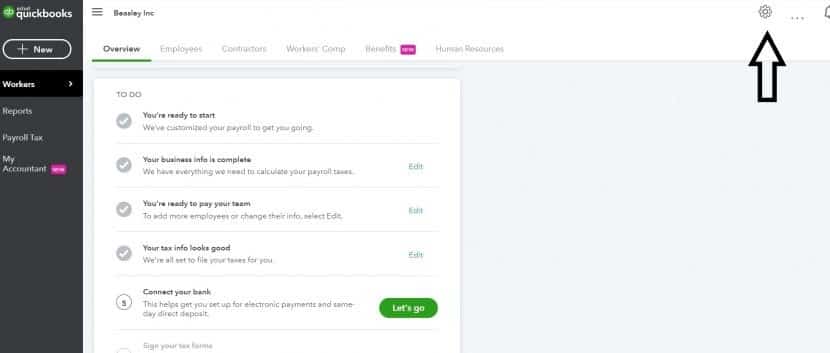 Here are the steps you should follow to complete the QuickBooks Payroll direct deposit setup process.
1. Set Up Your QuickBooks Payroll Account
For new QuickBooks Payroll users, you need to follow the steps on the "Overview" screen to finish setting up your account. However, before you are granted the option to enter your business bank account details into its system, you have to input payroll tax information and data about your existing employees such as name, address, and pay rate.
2. Connect Your Business Bank Account to QuickBooks Payroll
When you're ready to set up your QuickBooks Payroll direct deposit, click the "Start" button located beside the "Connect your Bank" task and then select "Get Started." A new window will appear, providing you with the opportunity to review all of the information you previously entered about your business (such as contact details and EIN).
You also have to enter the information about your company's principal officer. This person is the one who is legally in charge of the business bank account you want to use. Aside from the person's full name, the system will require you to input the principal officer's birth date, home address, and Social Security number.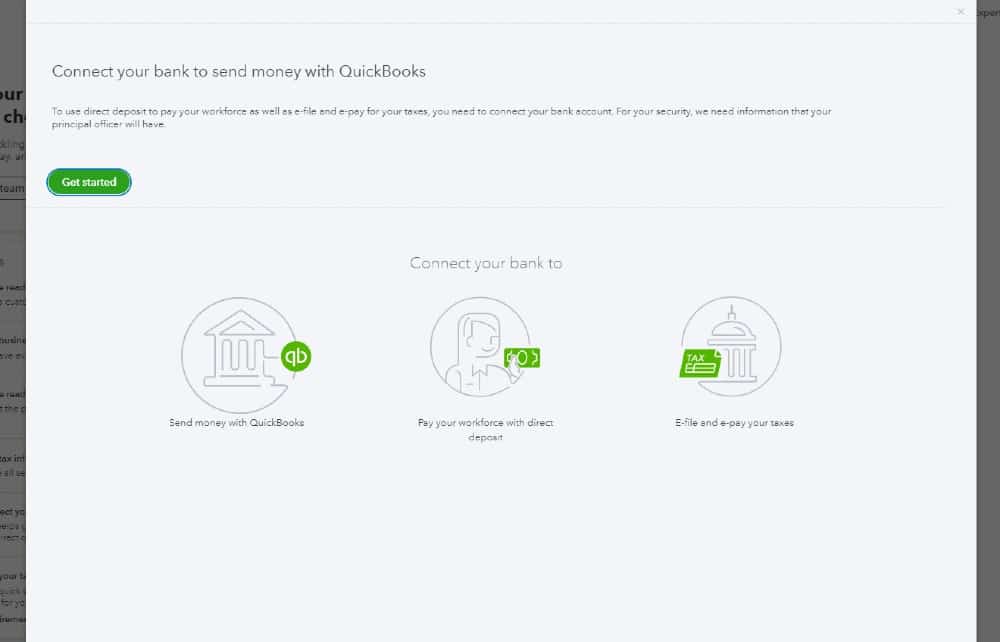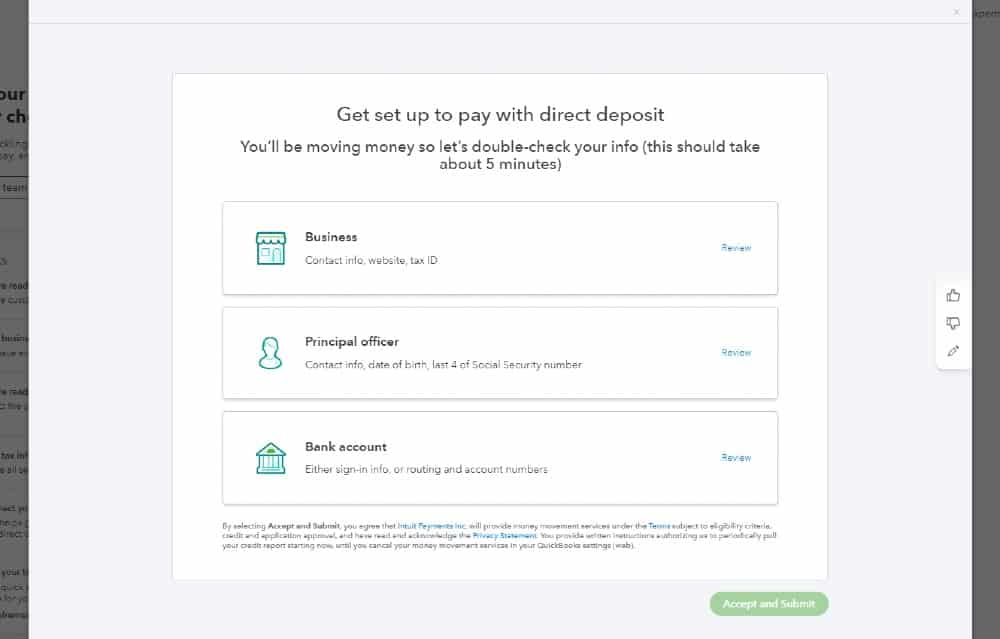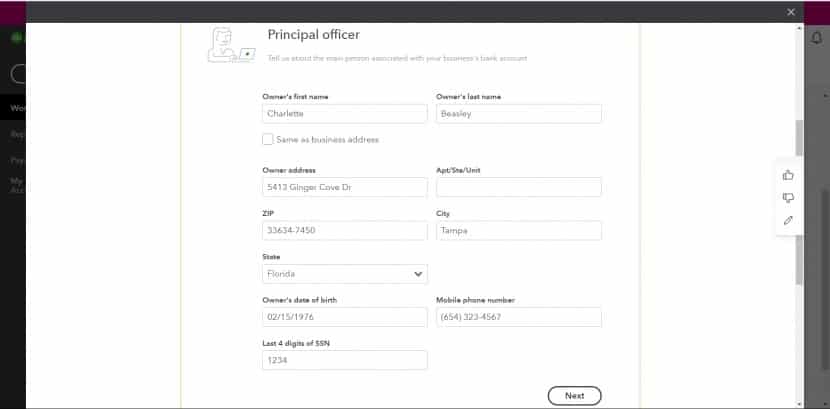 After checking your business and the principal officer's details, you can add and review your bank account and routing number. You can either enter the information manually or search for your bank and sign in with your online banking credentials. Note that the system will verify your banking data.
Having to manually enter the details online can delay the verification process for a few days. We suggest signing into your bank account, as this is quicker. If you're worried about providing your login information online, keep in mind that QuickBooks Payroll uses a secure system for all of its processes to keep your data safe.
You also have to create a PIN, which you'll use every time you send bank payroll information to QuickBooks. After you have created your PIN, the system will require you to confirm this twice before the option to "Submit" will be available.
Once your bank is connected to your payroll account, QuickBooks will send a test deposit transaction of less than $1 into your account within two business days. You can call your bank and check your bank statement online to see if the test transaction pushed through. It will appear on the statement as either "Intuit: Verify Bank" or "QuickBooks: Verify Bank." Note that this transaction will disappear in a few days.
In addition, you will receive an email requesting you to verify the test transaction. After you have confirmed the amount, you will receive another email stating that your account has been verified.
In case you don't receive the email prompting you to verify the test transaction, you can log in to your QuickBooks Payroll account to complete the verification. There are several ways to do this. You can check your to-do list on the "Overview" screen and click "Let's Go" on the "Check Your Account for Small Deposit, then verify" option. Select "Verify your Account" and then enter and confirm the amount of the test transaction from your bank account.
If the verify account task doesn't appear on your "Overview" screen, you can select "Settings" and then "Payroll Settings." Under "Bank Accounts," select "Company" and click "Verify Account." Then, enter and confirm the test amount.
If you don't see the option to verify your account, it means that the test amount hasn't been debited. You'll need to go back to Step 2, "Connect Your Business Bank Account," so you can restart the process. You can also contact QuickBooks' payroll support team for assistance.
3. Print Direct Deposit Authorization Form and Give to Employees
After you have successfully connected your business bank account with QuickBooks Payroll, you need to ensure that your employees' bank account information is set up correctly in the system. Before entering the data, you need to have each participating employee sign an authorization form for direct deposit. This will protect you because legally you're not allowed to send a paycheck to an employee's bank account unless they give you their approval.
QuickBooks has a form that you can print and use, but you can also use your own direct deposit form. In addition to signing the document, have each employee attach a voided check linked to the bank account in which they want their paychecks deposited. For employees who prefer to split their pay into two separate bank accounts, you can ask them to provide voided checks for each account.
Apart from the bank name, the account and routing numbers should be visible on the check. You'll need that information so you can enter the employee's banking details into QuickBooks Payroll.
To access the direct deposit authorization form within QuickBooks Payroll, go to the "Taxes & Forms" menu, click "Employee & Contractor Setup," "Authorization for Direct Deposit," and then "Bank Verification." Select "View" and print enough copies for employees who prefer to receive their pay through direct deposits.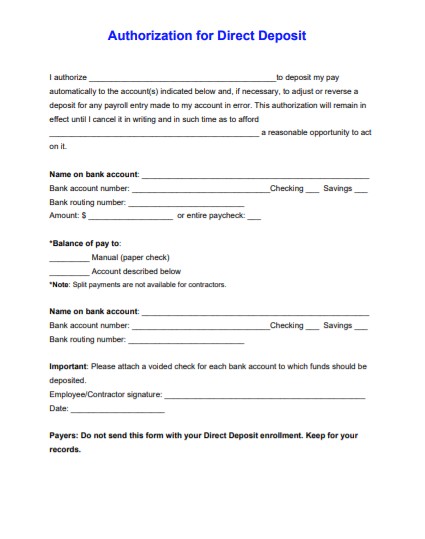 4. Enter Employees' Bank Account Details
To enter your employees' bank account information, go to the "Employees" tab. If you already added your employees and their applicable payroll information into the system, just select each staff member individually from the list and enter their corresponding bank details.
If you have yet to set up all of your employees into the system, click the "Add an Employee" button. In addition to personal information (like full name and birthdate), you have to input the staff's employment and basic payroll data such as hire date, pay rate, deductions, and tax details.
In the "How Do You Want to Pay (Employee Name)" option, select "Direct Deposit" in the drop-down menu. Then, enter the account and routing numbers listed on the employee's voided check(s). Be sure to double-check the numbers before clicking "Done," or your employees could experience a delay in receiving their first deposit.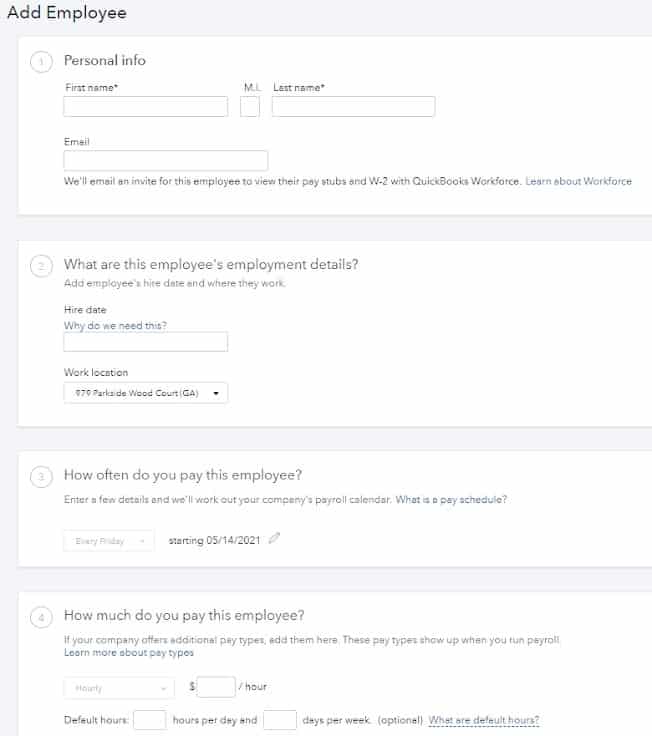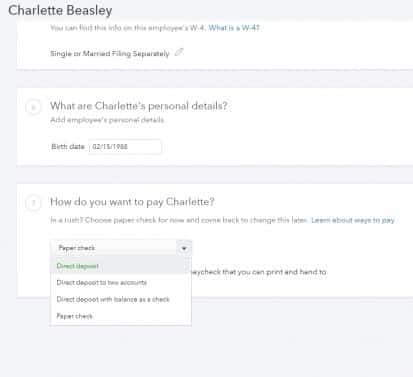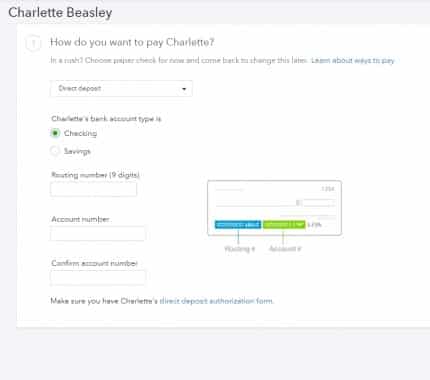 5. Send Your First QuickBooks Direct Deposit
After your business bank information has been confirmed and all of your employees' data has been entered into QuickBooks Payroll, you can start sending electronic payroll deposits. You can enjoy same- or next-day deposits, depending on your chosen plan.
In order to send a same-day direct deposit, you must submit payroll by 7 a.m. Pacific time  on the date you want the employee to receive payment. For next-day payroll services, you have to process payroll by 5  p.m. Pacific time on the day before payday.
What's Different About QuickBooks Payroll Direct Deposit
While most payroll software providers offer a direct deposit feature, they usually have a standard two- to four-day processing period. This means that you have to initiate the payment two to four days before the employee will actually receive it. With QuickBooks Payroll, you can send same- and next-day direct deposits at no extra cost, depending on the plan you choose. There's no prior approval needed.
What's Different About Setting Up QuickBooks Desktop Payroll Direct Deposits
If you're a QuickBooks Desktop Payroll user, the overall process to set up direct deposits for your business is the same as what online QuickBooks Payroll users follow. However, the system's menu and/or button selections are just a little different, plus there are a few extra steps.
For example, to connect your business bank account, you go to the "Employees" menu, "My Payroll Service," and then "Activate Direct Deposit." You also review your company information and bank account details in the "Verify Your Company Information" section. If you need to enter new information or make changes, you use the "Edit" button.
In order to review the details of the direct deposit service, you have to select "View Agreement." Once you agree to the terms, you have to answer questions in the "Check Security Limits" section and then submit. Similar to how it's handled with QuickBooks Payroll's online service, the provider will send a test transaction to your business bank account that you need to verify.
In setting up each employee for direct deposit, you open each staff record through the "Employee Center." There's a "Payroll Info" tab within it that will have a "Direct Deposit" button. Select "Use Direct Deposit for (employee name)" and then enter the bank account information for where the money should be deposited.
Although having payroll software makes paying your employees the right way much easier, you still need to know the basics. Check out our tips on how to get the best payroll training to help.
Bottom Line
By following five simple steps, you can easily set up your QuickBooks Payroll direct deposit. Just be sure to have all of your company and bank account information, including your employees' bank account details, ready to prevent processing delays. Once you have successfully completed the setup process, you can start sending same- or next-day paychecks to employees.